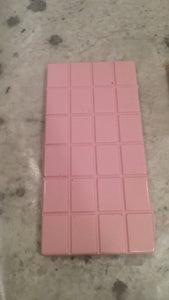 I CBD Strawberry Cookie Crunch Bar 4.5 Oz. 250 mg.
Regular price $17.00 Sale
A tasty strawberry's and cream taste with a white oreo cookie crunch.  This is an amazing combination so you can ingest CBD in a tasteful way.  There is a total of 24 squares. Each square is about 10.5 mg. So a total of 250 mg per candy bar.  I can make special orders of stronger ones if needed just email me and I will get your order done.
INGREDIENTS: SUGAR, PALM KERNEL OIL, HYDROGENATED PALM KERNEL OIL, WHEY POWDER, WHOLE MILK SOLIDS, NON-FAT MILK SOLIDS, TITANIUM DIOXIDE (COLOR), SOY LECITHIN, FD&C REED #40 LAKES, SALT, NATURAL AND ARTIFICIAL FLAVORS. NO THC
INGREDIENTS BLONDE OREO COOKIE: Unbleached Enriched Flour, (Wheat Flour, Niacin and Reduced Iron, Thiamine Mononitrate, Vitamin (B1), Riboflavin (B2), Folic Acid, Sugar, Canola and or Palm oil. High Fructose Corn Syrup, Salt, Baking Soda, Soy, Natural Flavor & Artificial Flavors.
Affiliated with the stores in Tennessee and states where legal