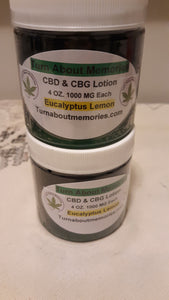 I CBD & CBG 1000 Of each /2000 MG Lotion 4 OZ.
Regular price $42.00 Sale
CBD & CBG Lotion.  The up and coming other cannabinoid that is very affective on Muscles, Joints, Nerves for reliable relief, and anti inflammatory topical relief. In this lotion you will have 1000 MG of CBD Isolate and 1000 MG of CBG Isolate.  So like to heads are better than one. When mixing two cannabinoids together they work mix very well and help twice as much.  If you would like this lotion stronger it can always be made. Contact me for special orders. 
Ingriedients: Water, Cetearyl Alcohol, Ceteareth-20, Dimethicone, Mineral Oil, Glycerine, Petrolatum, Propylparaben, Methylparaben, Carbomer, DI-C12-15 Alkyl Fumarate, Tocopheryl Acetate, Evening Primrose Oil, DMDM Hydantoin, Isolates, fragrance.  I can make a stronger dose or less for this scent if you would like. Email me with special orders at Turnaboutmemories@comcast.net