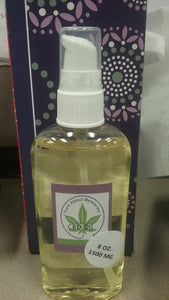 I CBD Body Oil 4 OZ Bottle
Regular price $27.00 Sale
For those who don't want a CBD Pain Lotion I also offer the CBD Pain Body Oil.  Its very easy to apply with the spray nozzle.  Just a few squirts in the area where you have pain and rub it in.  It doesn't leave a greasy feeling on your skin.  It soaks in well and starts to work to relieve your pain. Its available in various strengths.
Ingredients: Mineral Oil, Sunflower Oil, Macadamia Nut Oil, Walnut Oil, Evening Primrose Oil, Safflower Oil, Isopropyl Myristate, Madagascar Vanilla Fragrance Oil, CBD Isolates.
Mineral Oil:is one of the best skin care ingredients available.
Sunflower Oil:a great source of vitamin E, rich in nutrients and antioxidants
Macadamia Nut Oil:It's high in monounsaturated fatty acids, including Oleic Acid (Omega 9), which are very moisturizing, regenerating and softening on the skin.
Walnut Oil: has been recommended to fight wrinkles since at least the 17th century, and so many other amazing qualities.
Evening Primrose Oil:relieve symptoms of notoriously difficult-to-treat and painful skin conditions, such as psoriasis and eczema, anti-inflammatory properties make it suited to help with everything from pain relief to soothing itchy skin.
Safflower Oil:to address poor circulation, bruising, sprains, and inflammation.